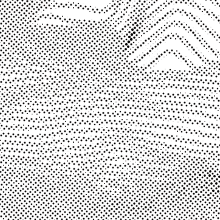 The Social CRM tool that help your business fly up and high with data and technology.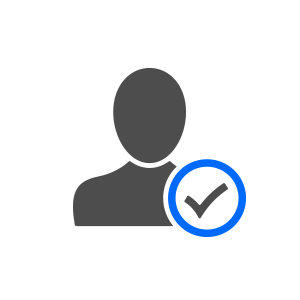 SELF - SERVICED
Although WeChat/FB has many advanced functions available, they can only be activated by developers. With We:Intelligence you can activate them in clicks.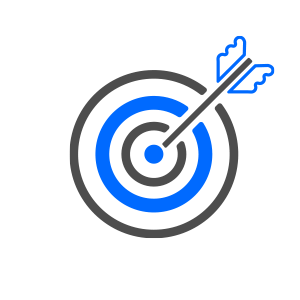 AUTOMATED
Followers segmentation is one of the most tedious processes in many CRM systems. With machine learning and automated logic, users segmentation and tagging can never be easier.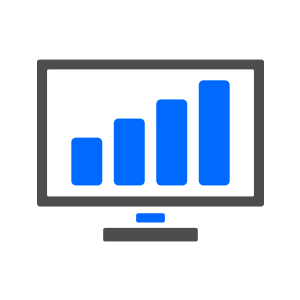 DATA-DRIVEN
WM:Suite captures all data across the touchpoints of the entire integrated social media & chat-app journey. Not only that, it sees beyond the number of fans and its growth pattern. It digs deeper their source, loyalty, activity and reasons behind dropping out.
The foundation block of WM:Suite to perform advanced users and content management, and sophisticated data analytics.
Slide Background
Enable creation of parametric QR code, which could be unique to channels, markets, KOLs, you name it, for automatic fans tagging and identification of source of fans to evaluate performance.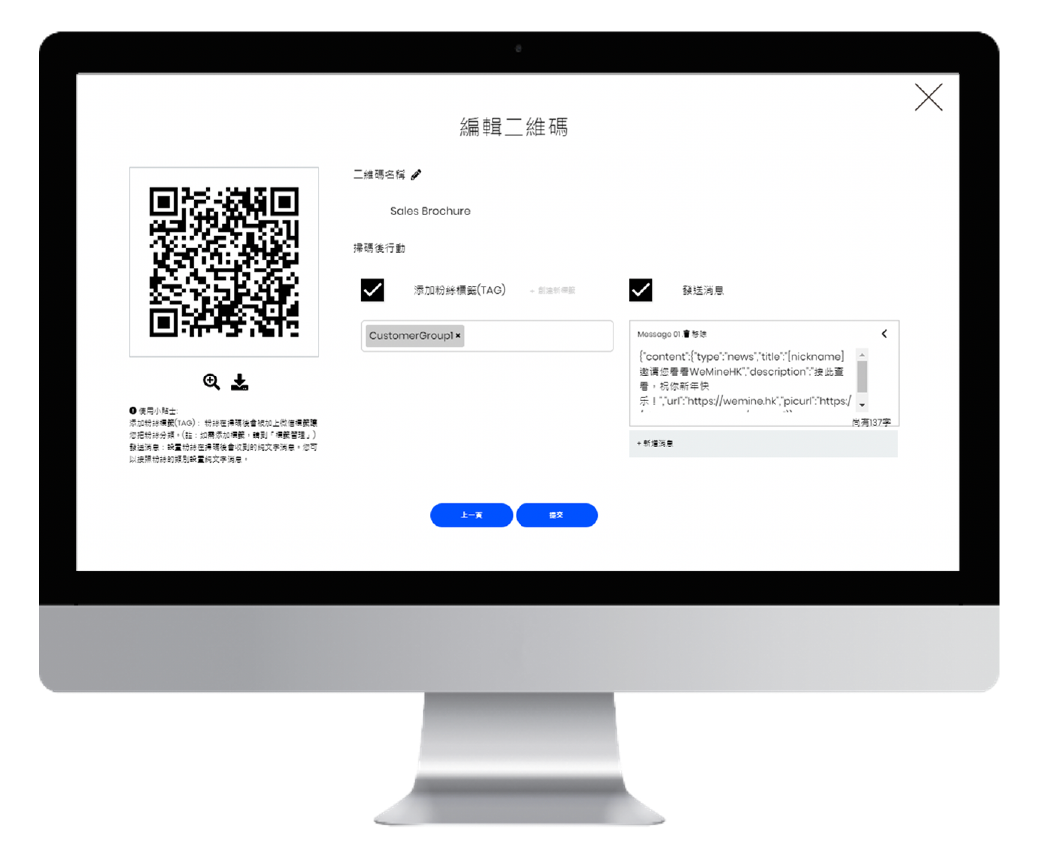 Slide Background
Based on their behavior, such as messages keywords, posts they interact with to automatically and manually tag and segment the audience pool.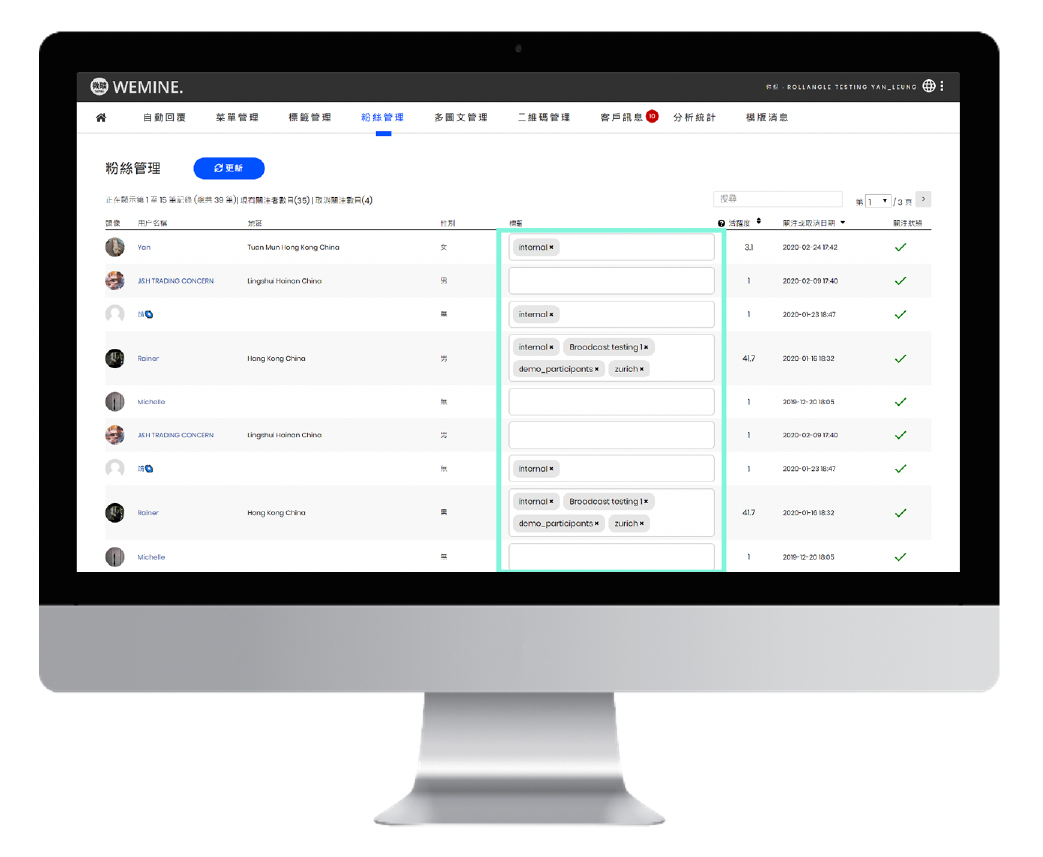 Slide Background
On WeChat, all content can be customized to a specific segment (user tags) to enhance followers' stickiness with more relevant content that interests them the most.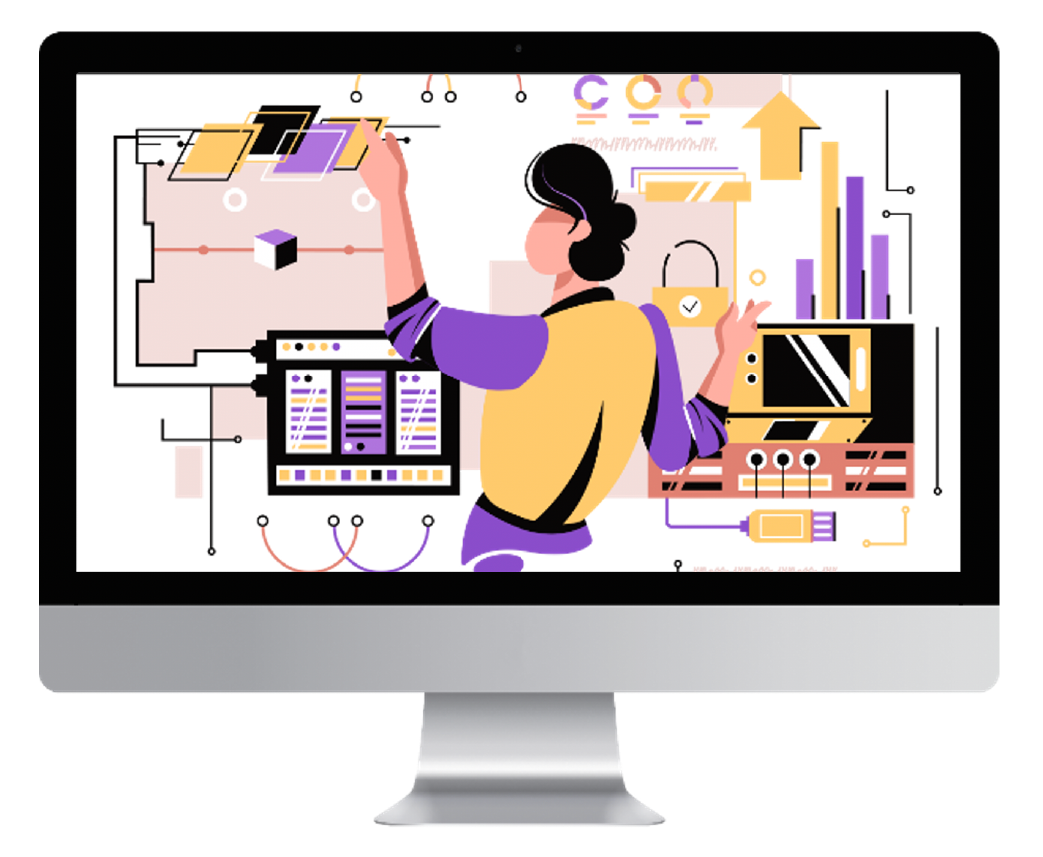 Slide Background
Follower analysis is not just about the number of increase or decrease. On WM:Intelligence, on top of general social data, there are granular analysis on each follower, period-to-period comparison and unfollowing patterns related analysis.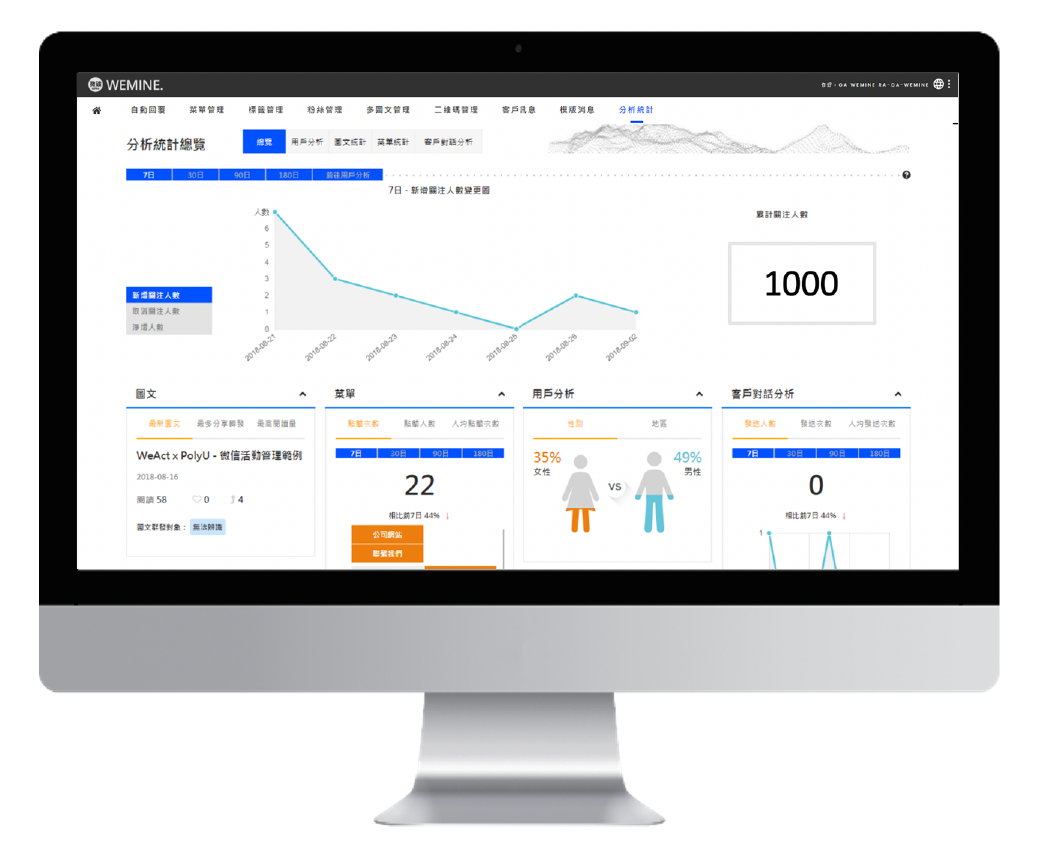 Slide Background
On WM:Intelligence, you can easily connect with your followers with permanent conversation history, tagging features, and CS tracking for a full CS performance monitoring.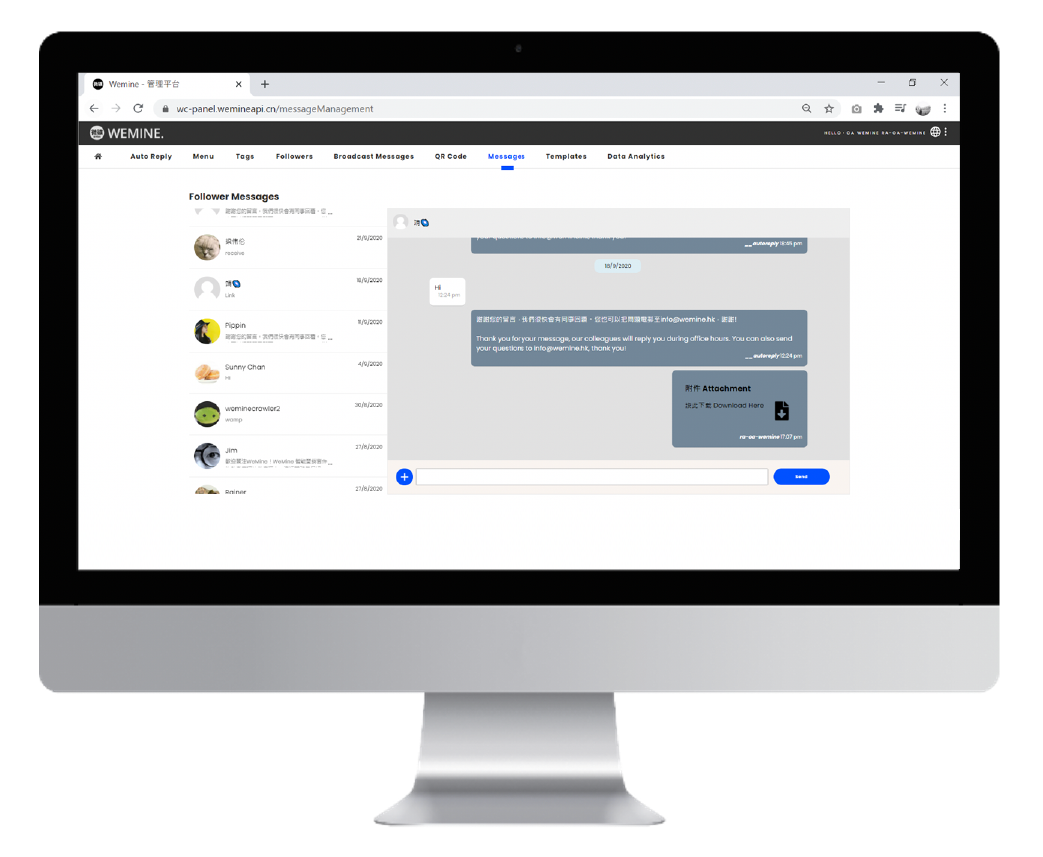 Slide Background
Integration With
External CRM System

With the extensive data available, WM:Intelligence is compatible with many international CRM systems to integrate our data to provide a comprehensive data flow and CRM follow-up.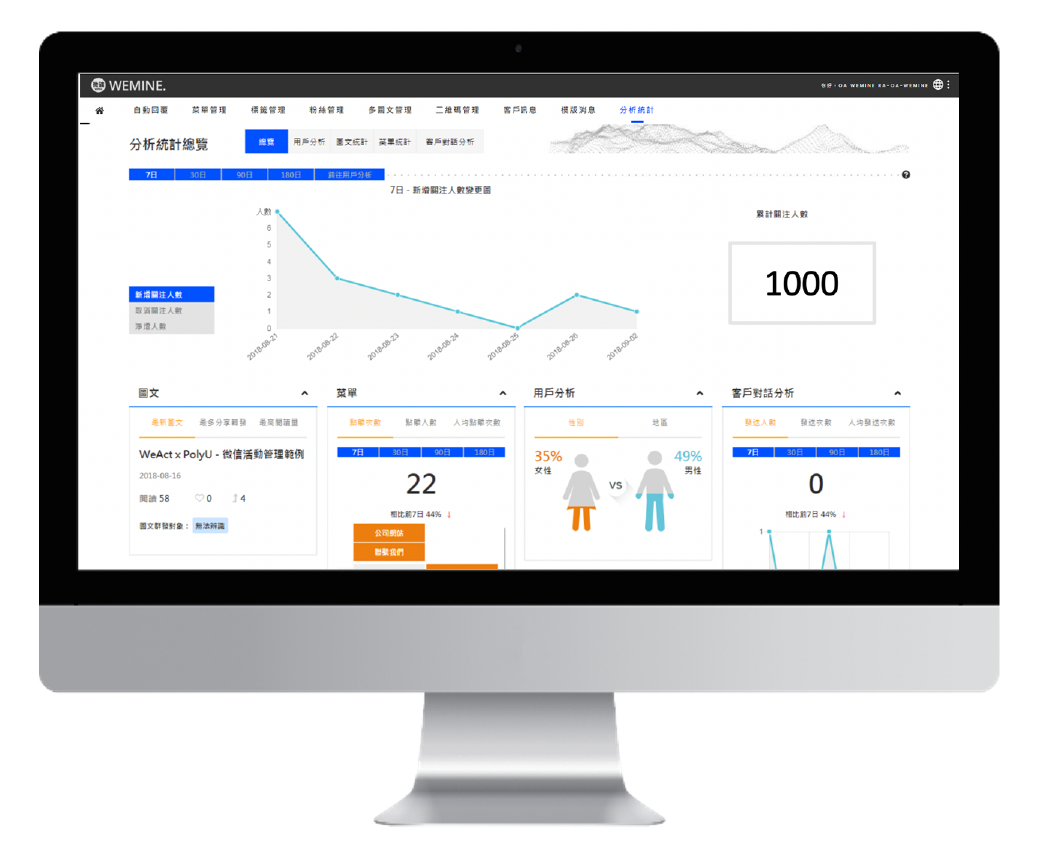 An elective module of We:Intelligence, focusing on streamlining O2O events from registration, check-in, to live event interactions and post-event engagement., using Chat-app as Facebook and WeChat.
Slide Background
Running Campaign
on Chat-app
● No Event App Download
● Encourage social page/account following
● Integrate with Social Profile and Behavioural Data
● Pre-event to post-event functions all-in-one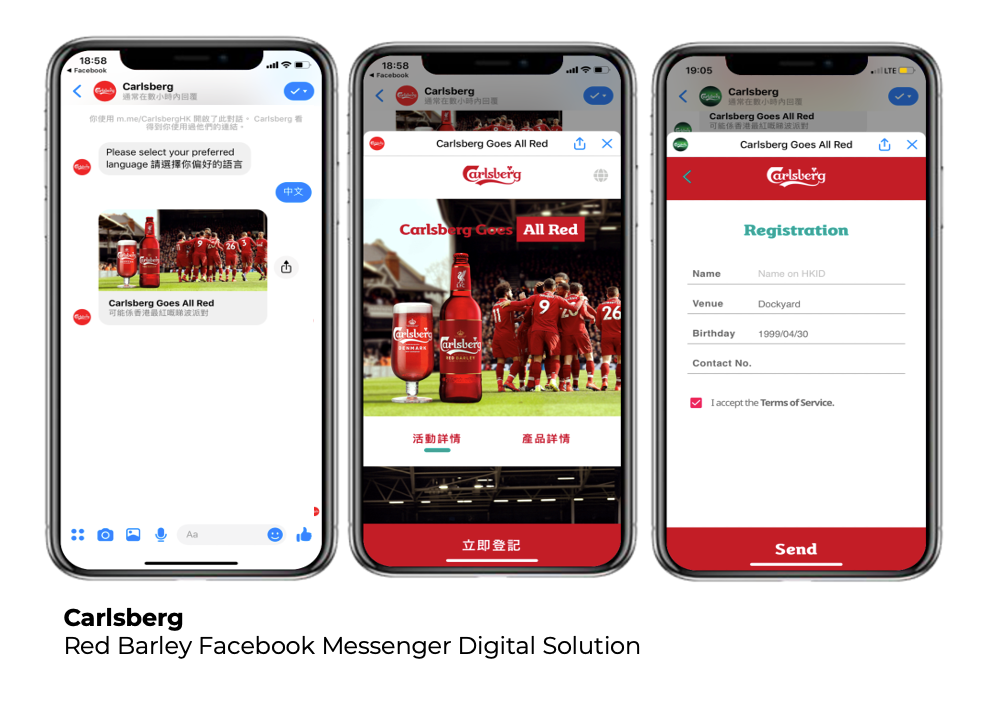 Slide Background
An elective module of WM:Suite to facilitate sophisticated CS-to-customer operation.
It is designed with customizable automated routing logic and thorough data tracking to ultimately turn customer relations into impactful results.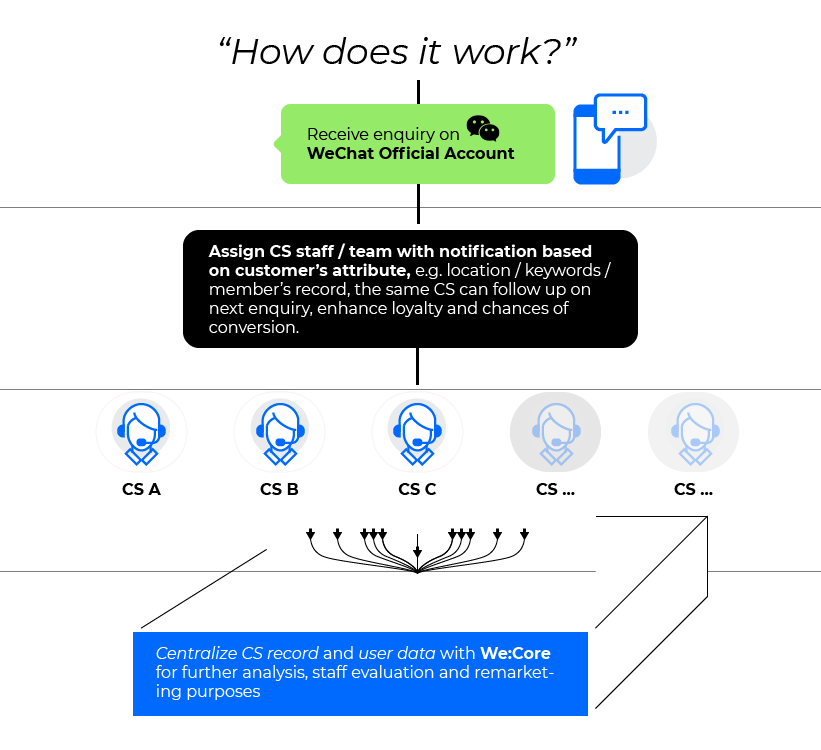 It allows you to capture, analyze and act on the data by comparing your company's WeChat official account with selected competitors.
Slide Background
We:Pulse report includes your competitors':
● Followers growth trend in comparison to your account
● Engagement data of their post content
● Top performing posts and keyword analysis
● Frequency of their posts